Hitsugi Kirigaya
Information
Kanji
桐ヶ谷 柩
Rōmaji
Kirigaya Hitsugi
Occupation
Student (former)

Assassin (former)

Attendance No.
4
Gender
Female
Age
15
Status
Alive
Debut Appearance
Anime
Episode 1
Manga
Chapter 2
Voice Actor
Voice Actor (jp)
Mami Uchida
Image Gallery
Hitsugi Kirigaya (桐ヶ谷 柩; Kirigaya Hitsugi) is one of the main characters of the manga and anime series Akuma no Riddle. She is a former student of the 10th year's Black Class at Myojo Academy who was in a competition with the other students of that class who were trying to kill Haru Ichinose where the reward is anything what that assassin may want. Due to her close relationship Hitsugi developed towards Chitaru throughout the series her wish was to leave together with Chitaru after all this was done. She and Chitaru were thought to have died during the Romeo & Juliet play but it is later shown that both are still alive with Chitaru being hospitalized.
In the anime seried she is also known under the alias Angel's Trumpet, the one that killed Chitaru Namatame's former teacher's daughter. However, in the original manga plot Hitsugi and Angel Trumpet are two different persons, the latter's true identity stays unknown in the manga.
In the final episode, she and Chitaru are alive, and she seems to be trying to patch things up between them.
Assassination Attempt
She was the fifth assassin to attempt an attack on Haru Ichinose.
She went to the equipment room where the props for the Romeo & Juliet play were stored and caught Shiena Kenmochi about to hide her notice in Haru's script. However, Hitsugi stopped her by poisoning her. This, however, caused a lot of noise because nearby, Haru and Tokaku were looking for Haru's script and they heard the noise and rushed over to the scene. They found an unconscious Shiena lying on the ground with the assassination notice at her side and a cunning Hitsugi who was hiding near the stack of swords that were being used for the play. Hitsugi is then discovered by Tokaku and decides to walk over to Haru and give her the assassination notice that she was going to give her earlier.
When the day of play had come, Tokaku kept on thinking about how Hitsugi would poison Haru. She came up with a lot of possible ways and then realized that when she found Hitsugi, she was by the stack of swords, the same sword that they are using. She then proceeded to check the swords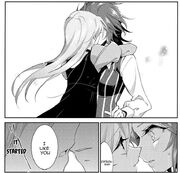 and confirmed that they had poison on them. She wiped them off, thus stopping Hitsugi's plan.
In the manga while Chitaru was telling the story about her teacher and Angel Trumpet, Kirigaya told Chitaru she also wanted to help her kill Angel Trumpet. Chitaru was confused, so Kirigaya kissed Chitaru and confessed her love.
She along with Chitaru became the fifth student(s) to be expelled from the Black Class after their apparent suicide.
Personality
She appears to have a sweet personality and is very polite. However, she rarely means the sweet words and is poison minded. She has a lost sense of direction but was helped by Chitaru on her way to the school. That was the first time she appreciated kindness. As events unfolded, her feelings towards Chitaru deepened, and she eventually began to feel inferior and undeserving of Chitaru's kindness as she was actually the one Chitaru wanted to kill. Finally, she confessed at the day of play that she was the "Angel Trumpet" Chitaru had been looking for and attempts to kill herself during the play.
Appearance
Hitsugi has an apparantly small body, with a thin, fragile frame. She has eyes of molten amber shade with long fair hair that are usually done in two little pigtails. Her general attire consists of a long sleeved dark colored undershirt below a poofy cream one-piece. She wears shoes and socks of same color as her undershirt and is carrying around a pink teddy bear, giving her the appearance of a harmless little girl.
Skills and Abilities
She has a hidden tranquilizer gun within her stuffed teddy bear that shoots out poison from it, proving that she is not just some small incompetent girl. She is also a specialist at using poison as a weapon to carry out assassinations.
History
Not much is known about her history except for the fact that she assassinated the daughter of Chitaru's teacher using poison.
Trivia
Her first name Hitsugi (柩) means "coffin".
Kirigaya (桐ヶ谷) can be translated as "valley of paulownias".
She has a bad sense of direction, as demonstrated when she gets lost on her way to Myojo Academy.
After her, Shiena, and Chitaru's expulsion. White roses are placed on her desk. Which symbolize innocent or childlike.
Community content is available under
CC-BY-SA
unless otherwise noted.